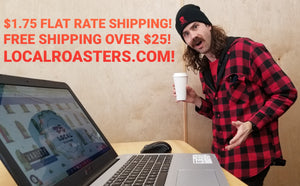 Lower shipping costs and other updates!
Hello! Ryan here! I hope everyone is successfully navigating this crazy new world we are living in! I figure this blog might be a great place to hand out some updates and videos over the coming weeks, to keep everyone informed or at least, hopefully, entertained! This is new to me, so here goes!
First off, I wanted to make sure you were aware of the new lower shipping rates we have enacted during the "social distancing" part of this whole process. As of right now, orders under $25 are only $1.75 flat rate shipping, and orders over $25 are FREE SHIPPING! That way you can still get your coffee for the same price, and not even have to leave the house! Your coffee will be there in no time! 
Next, let's talk gift cards. Yeah, you can get em in store, but did you know you can buy gift cards online? This is a great way to support us in these trying times, and also ensure your friends or family don't go without coffee! Just head on over to the "gift cards" tab , order one in any denomination and BOOM it will be ready in your email in no time! Then forward it over to the coffee lover in your life, and totally make their day! It's the little things that let someone know you are thinking about them! 
Now, that we got that out of the way, what kind of things would you like to see in our blog? Instuctional videos? Links to coffee gear and info? Recipes? Videos of adorable goats? Let us know and we will get you hooked up! Thanks for reading! Be back soon! 
---
1 comment