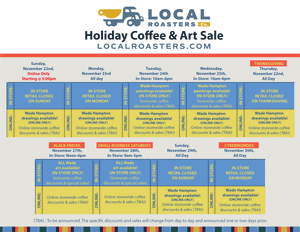 Holiday Schedule and Wade 'Hate'!
Well hey there, coffee cult!
Buckle up for a crazy couple of weeks; the holiday season is always an exciting time! Thankfully we something to help with that: coffee. As you surely know, we love coffee and this is coffee season! Specifically, it's the season for discounted coffee (hellooooo Black Friday and Small Business Saturday)! Here's what to expect from Local over the next week or so. 
STORE HOURS (11/22-11/30):
Tuesday - Wednesday: 10am-6pm
Thursday: CLOSED
Friday: 12pm-6pm
Saturday: 9am-5pm
Sunday - Monday: CLOSED
Wade Hate Art Availability:
Drawings will be available ONLINE ONLY from Sunday 11/22 at 5pm thru Thursday 11/26. On Friday (11/27), drawings will become available IN-STORE ONLY thru Saturday (11/28) at 5pm. Then, after closing Saturday, they will be available ONLINE ONLY until they sell out. 
Paintings will be available IN STORE ONLY due to shipping complications.
Throughout this week we will have various discounts available! Check our social media pages for more information! 
Have a safe and happy holiday and don't forget to SHOP LOCAL! 
---