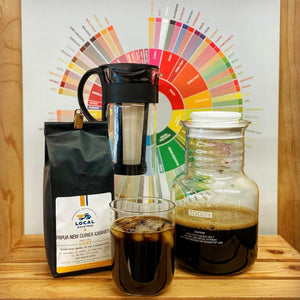 Cold Coffee in Cold Weather
Oh, hey there! 
Coming in with a hot take: COLD COFFEE IS YUMMY YEAR ROUND. 
Thank you and goodnight.
This week in sweet ICT we saw the first snow and all of us here at Local are real jazzed about the upcoming season. The cold is prime coffee weather but we're not just talking about snuggling up with a mug, we're talking about sipping cold brew on your drive to work. Let's get after it. 
COLD BREW VS. ICED COFFEE
Let it be known: cold brew and iced coffee are not the same. Why? Cold brew is, as its name states, brewed with cold or room temperature water while iced coffee is brewed with hot water and then chilled. 
Which is better? Umm, you pick? They're both delicious. Cold brew often has a stronger flavor than iced coffee. 
WHAT DO I NEED TO MAKE COLD BREW?
Some sort of brewing method (keep reading)

Water

Coffee (ground coarsely!!!!!)

Time

Add-ins
THE EXPERIMENT
The Local Team wants to make sure you get the most accurate information ever because reasons. So, to that end, we made three cold brews in order to find the best brewing method of the three. For each brew we followed the instructions provided then left the coffee to brew for about 24 hours. 
The three methods we used when experimenting were the Toddy, the CoffeeSock Cold Brew Kit, and the Hario Cold Brew Pot.
BEST BREWING METHOD?
We can't say we know the best brewing method because we only had three to pick from but of the three, the favorite was the Toddy cold brew maker. A Toddy brews a cold brew concentrate, making the result of your efforts double. It also allows freedom to cut your concentrate with milk instead of water, which results in a creamier coffee. You know, if that's what you're into.
HOW DO I MAKE COLD BREW?
Grind coffee coarsely (amount specified in brewing method's instructions)

Pour some water into the grinds, until all are damp. Let rest for about 30 seconds. This allows the coffee to bloom, a release of carbon dioxide. Blooming your coffee enhances the flavors of the beans. 

Pour in the rest of the water.

Rest for 12-24 hours based on your coffee strength preference. 

Add stuff if you want.

Drink good coffee.
RECOMMENDED COFFEES FOR COLD BREW
Traditionally, cold brew is made using medium to dark roast coffees. If that's your jam, we recommend our Honduras Reserva Guama Danta and Copy Cat. If you're like the Local crew and prefer lighter roasts, we made cold brew with the Papua New Guinea Kainatu a while back and shiz was delish. Really, you can't go wrong with any of our coffees. The only coffees we wouldn't recommend for cold brewing are flavored coffees. The extra oils brought into the mix from the flavoring give the cold brew a bitter bite. If you're wanting to add flavor to your cold brew, opt for adding it post-brew. Adding flavor after you make it also gives you more control on how much flavor you're adding to your coffee.
WELP
We hope you learned a lot. If you did, tell your friends. Later dudes. 
---