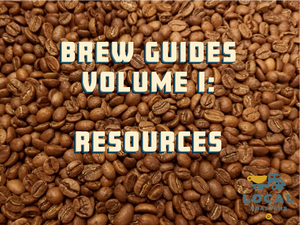 Brew Guides Vol. I: Resources
Have you ever wondered why making a great cup of coffee feels like such a complicated process?
There are so many tips and tricks available online that sometimes it can get quite confusing to figure out what's "right" and what's "wrong" and what to do to get the coffee you're dreaming of. We've gathered a variety of helpful resources for you to access and learn from all in one place. Remember- this is only volume I. We've got a whole series planned! 
An Initial Do's and Don'ts List:
Do:
Use high quality coffee
Use water with minerals*
Grind your coffee as consistently as possible and as fresh as possible*
Store your in a dark, airtight container (or in its Local bag inside a baggie)ue fridge/freezer (it'll just take in the oils from your other food)

Don't:
Store your coffee in the fridge/freezer (this is especially true for ground coffee!)
Use distilled water*
Assume all coffee is made equal
Be scared of trying new things*

Brewing Methods: A Non-Exhaustive List 
Weirdly enough, they didn't include drip coffee or pod brewing on here and did include a few methods that I (Summer) have never heard of. They also have a couple different brew methods that they deem include a "lack of respect for coffee" but you like what you like so whatever dude. Stay tuned for another blog post that goes into more detail about brewing methods.
Home Grounds Co.
Nailing the Coffee to Water Ratio
This page even includes a calculator to help you nail the ratio every time. 
Roasty Coffee

Tasting Coffee: Flavor Notes and Slurping
Did you know that in order to really taste your coffee, you need to slurp it? This process covers your whole tongue with the coffee, allowing you to taste all of the different elements of the coffee! 
Slurping
Coffee Tasting
Videos and Youtubers to Check Out:
James Hoffman
Modern Marvels: How Coffee is Made (full episode from the History channel)
TED Talk with Chandler Graf: Everything You've Ever Wanted to Know About Coffee
Other Resources:
Sprudge: Sprudge is a newsletter-type situation with articles and classes about a million things in the coffee world. They also provide maps to coffee shops recognized by their organization and guides for coffee in different cities around the world. 
The Specialty Coffee Association

**Update**
What's to come in the coffee world: 
Your Coffee is Getting More Expensive
Most of these websites have helpful content other than the specific ink we've shared, so take a look around when you get there! 
Have fun learnin' and brewin'! We'll catch ya on the flip side. 
Summer & the Local crew
* More information coming soon!
P.S. Did you learn something? Did we miss something? Let us know in the comments what you think!
---